Patterns.
A selection of traditional and modern belly dance patterns for those wanting to "do it yourself" belly dance costumes.
Pattern 1.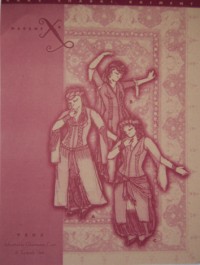 Pattern-1
Ghawazee Coat & Turkish Vest
Pattern for adjustable Ghawazee Coat & Turkish Vest.
Inspired by historical clothing and laced up to accommodate fit.
This pattern opens down the front, has two necklines, including under the bust, also features four areas of lacings, two in the front and two in the back to accommodate hips from 32 inches to 72 inches. Complete sewing instructions and pattern adjustment instructions
for grande sizes and petite sizes.
In Stock
$24.00
SOLD OUT
Pattern 2.
Pattern-2
Mermaid & Fishtail Skirt
This set of instructions uses your individual measurements
to create the perfect customised "Mermaid" style skirt,
without those awkward seams at the knees.
A form fitted skirt that flares out from the knee.
The added "Fishtail" is a half-circle swag
falling from the bottom of the derriere.
In Stock
$24.00
Pattern 3.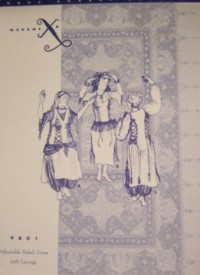 Pattern-3
Beledi Dress
Inspired by historical clothing that laced up to accommodate fit,
this pattern was developed for dancers who
fluctuate in weight and want to ensure a perfect fit every time.
Perfect for troupes, guest dancers, and pregnant dancers.
This dress features four areas of lacings, two in the front
and two in the back to accommodate 32" hips to 72" hips.
Offering two neck lines and three sleeve options,
the complete sewing instructions also
include pattern adjustment instructions
for grande sizes and petite sizes.
In Stock
$24.00